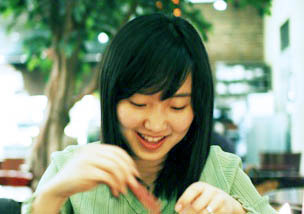 My life goal is to lower the barriers of knowledge through data. I am currently working for Naver Papago – and lowering the barriers of linguistic knowledge by building machine translation models. Current areas of interest include context-aware machine translation, and translation evaluation.
You can often find me on the Web as Eunjeong, echojuliett, echojuli&t, e9t.
Latest news
2020-06: We had a chat with Kyunghyun Cho at TensorFlow Korea. It's not everyday you meet your role model…
2020-05: Read this blog to see how Papago MT and NLE MT group are contributing to research for COVID-19. (Related news articles)
2019-10: We are having the second NLP-OSS workshop, co-located with EMNLP 2020. Consider submitting a paper!
2019-06: Here's an article about me developing Papago's new honorific translation feature. (In Korean)
2019-04: Interested in machine translation for Asian languages? Come see our interview with Slator.
2019-01: We had an interview with Data Skeptic regarding KoNLPy! Go have a look.
2018-01: I'm organizing Deep Learning Camp Jeju 2018, a sequel of the ML Camp Jeju 2017.
2017-11: I'm organizing the inaugural NLP-OSS Workshop with Masato Hagiwara, Dmitrijs Milajevs, Liling Tan – a workshop devoted to open source software regarding NLP, to be co-located with ACL 2018.
2017-06: I'm organizing and participating in the Machine Learning Camp 2017 at Jeju. I will be mentoring Judit Ács, and we will be building a morphology segementation model for Hungarian!
2016-12: My team at Naver, Papago, won 1st place in Naver's 2016-4Q Project Presentations, and 2nd place among all projects presented at 2016 Naver User Connect Day!

네이버 서비스위원회 과제발표회 2016년 4분기 성과부문 1위, 네이버 사용자 커넥트 데이 2017년 성과부문 2위.

2016-08: I've (finally) graduated Seoul National University as a Ph.D., and joined the machine translation team at Naver Corporation to build Papago!
Community services
Teaching
About me
Personal characteristics:

Friends call me a dreamer or romantist to a fault - but I enjoy living my life as such.
I am a productivity geek.
I spend much of my free time automating things.
I easily get addiicted to things, so I don't start things easily.

Things I love:

Riding my bike, swimming, scuba diving, playing the piano and making my own fresh coffee with a siphon.
Adventures, smiling, learning, and pursuing community action.
Exploration! As opposed to exploitation. I particularly enjoy exploring the realm of cuisines. I have two particular dishes I do not enjoy – 홍어, 추어탕 – but who knows? I may even come to like these in the future.
Openness, sharing, and cooperation (ex: Everyware)
I live with a cat named Lea.

These are some things I believe in: